Naeotom Alpha is world's first CT scanner with photon-counting technology.
RS Abdi Waluyo will be first hospital in Indonesia to offer patients benefits of
photon-counting technology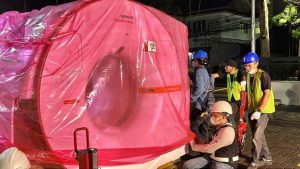 RS Abdi Waluyo will be the first hospital in Indonesia to acquire Naeotom Alpha, the world's firstphoton-counting CT with the aim to optimise diagnostic and treatment pathways for patients inIndonesia.
This revolutionary medical imaging system is designed to improve patient diagnosis, treatment and outcomes, and is set to revolutionize medical practices in the country. The Naeotom Alpha is a state-of-the-art medical imaging system that offers advanced 3D imaging, allowing doctors to
see detailed images of organs, tissues and bones, with unprecedented clarity and precision.
The system is the first major imaging device advancement for Computed Tomography in nearly a decade that can provide real-time imaging, enabling doctors to see the movement of organs and tissues in real-time, providing valuable insights to help diagnose and treat a wide range of
medical conditions.
"We are thrilled to introduce the Naeotom Alpha to Indonesia," said the Director of RS Abdi Waluyo, dr. Prasetyo Andriono, Sp.JP "This is a game-changing technology which will enable us to stay at the forefront of medical imaging in Indonesia. This system will help to improve patient care and
outcomes, and we are confident that it will be embraced by medical professionals across the
country."
The acquisition of the Naeotom Alpha in Indonesia represents a major milestone for the country's healthcare sector, and highlights Indonesia's commitment to providing its citizens with access to the latest medical technologies. It is a testament to the country's ongoing efforts to enhance its healthcare infrastructure, and to its commitment to improving the health and wellbeing of its citizens.
"The company's mission is to improve patient care and outcomes by providing medical professionals with the tools they need to diagnose and treat a wide range of medical conditions. This system is expected to have a significant impact on the medical community in Indonesia, enabling doctors to make faster and more accurate diagnoses, and to develop more effective treatment plans for their patients," said Alfred Fahringer, Country Head
of Siemens Healthineers Indonesia.
RS Abdi Waluyo Photo
Siemens Healthineers AG (listed in Frankfurt, Germany: SHL) pioneers breakthroughs in healthcare. For everyone. Everywhere. As a leading medical technology company headquartered in Erlangen, Germany, Siemens Healthineers and its regional companies are continuously developing their product and service portfolio, with AI-supported applications and digital offerings that play an increasingly important role in the next generation of medical technology. These new applications will enhance the company's foundation in in-vitro diagnostics, image-guided therapy, in-vivo diagnostics, and innovative cancer care. Siemens Healthineers also provides a range of services and solutions to enhance healthcare providers' ability to provide high-quality, efficient care. In fiscal 2022, which ended on September 30, 2022, Siemens Healthineers, which has approximately 69,500 employees worldwide, generated revenue of around €21.7 billion and adjusted EBIT of almost €3.7 billion. Further information is available at www.siemens-healthineers.com