NAEOTOM Alpha is the world's first photon-counting CT.
RS Abdi Waluyo has installed the first NAEOTOM Alpha in Southeast Asia, that will optimise
diagnostic and treatment pathways for patients in Indonesia.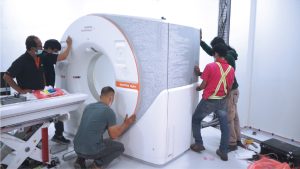 RS Abdi Waluyo, one of the leading healthcare providers in Indonesia, has installed the state-of-the-art NAEOTOM Alpha, the world's first photon counting CT scanner. Developed by Siemens Healthineers, the NAEOTOM Alpha is a revolutionary medical imaging system that offers high resolution images at minimal dose, spectral information in every scan, and improved contrast at lower noise.
The installation of the NAEOTOM Alpha marks a significant milestone in medical imaging globally
and in Indonesia. The implications of this innovation from Siemens Healthineers are far reaching
for patients and physicians and may profoundly change the way that CT imaging is performed: It
adds clinical value for fast and reliable diagnoses by the physician by improving image quality,
potentially leading to less uncertainty for physicians and patients.
"We are excited to be the first hospital in Southeast Asia to install the NAEOTOM Alpha. With this
revolutionary technology, we will witness the power of innovation to transform possibilities into
reality and shape the future of healthcare in the region," said Dr. Prasetyo Andriono, Sp.JP, Director
of RS Abdi Waluyo. "This cutting-edge technology will help us provide the highest level of care to
our patients by enabling us to detect and diagnose diseases earlier and with greater accuracy."
NAEOTOM Alpha is a quantum leap that redefines how high resolution can be utilized in CT
imaging. It is a profound change of the dose-vs-image quality equation, offering a new level of
detail while keeping dose to a minimum. NAEOTOM Alpha utilises cadmium telluride crystals in its
CT detector which convert X-ray photons directly into electrical signals instead of first converting
it into visible light as with conventional CT imaging.
This overcomes the loss of information from standard energy integrating detectors used in
conventional CT systems, and produces sharper, clearer and higher-detailed images without the
need for higher radiation doses.
"As a radiologist, I always strive for accurate and precise diagnoses. The ability of Photon counting CT to detect subtle changes in tissue density and composition helps me not only to find the disease but to characterize it. By detecting and quantifying the energy of individual photons, the PCCT provides a level of sensitivity and specificity that is unmatched by traditional CT scanners." said dr. Sahat Matondang, Sp.Rad(K), Radiologist in Abdi Waluyo Hospital.
"We are proud to be able to provide and install the NAEOTOM Alpha in RS Abdi Waluyo. It is our
commitment to provide access to the latest medical technologies. With its exceptional image
quality, low radiation dose, and advanced features, the NAEOTOM Alpha is poised to revolutionize
CT imaging and improve patient outcomes. We are looking forward to partnering with many
more healthcare providers in Indonesia to bring this groundbreaking technology to patients in
need," said Alfred Fahringer, Country Head of Siemens Healthineers Indonesia.
Siemens Healthineers AG (listed in Frankfurt, Germany: SHL) pioneers breakthroughs in
healthcare. For everyone. Everywhere. As a leading medical technology company headquartered
in Erlangen, Germany, Siemens Healthineers and its regional companies are continuously
developing their product and service portfolio, with AI-supported applications and digital
offerings that play an increasingly important role in the next generation of medical technology.
These new applications will enhance the company's foundation in in-vitro diagnostics,
image-guided therapy, in-vivo diagnostics, and innovative cancer care. Siemens Healthineers
also provides a range of services and solutions to enhance healthcare providers' ability to
provide high-quality, efficient care. In fiscal 2022, which ended on September 30, 2022, Siemens
Healthineers, which has approximately 69,500 employees worldwide, generated revenue of
around €21.7 billion and adjusted EBIT of almost €3.7 billion. Further information is available at
www.siemens-healthineers.com.
RS Abdi Waluyo was established in year 1986 with a mission to provide excellent patient care. As
one already established hospital in Jakarta – Indonesia, Abdi Waluyo offers some of the most
technologically advanced patient-care equipment in the country. The speed of these
state-of-the-art machines allows the physicians to diagnose patients immediately with
accuracy because of the decreased procedure time with detailed results. In Abdi Waluyo, we
provide patients with the best quality healthcare by combining the most advanced medical
equipment and technology available with the expertise of the best trained, skilled and
experienced doctors and professional medical staffs with a deep-rooted culture of compassion.
For more information, please visit https://www.abdiwaluyo.com